From small businesses to huge companies which names have already become a brand – each of them can benefit from having a proper online-presence. Especially when it comes to selling their products and brands on the web. The society turned out to be a competitive one these days. Lots of people do not want to leave their houses in order to go shopping. They got used to sitting on their sofas and searching for the necessary items on the Internet.
Today, you can do the same but in terms of eCommerce templates. Our team has prepared a selection of 10 attention-grabbing ready-made solutions that can allow you to benefit from moving online with your business. Among them, you will find OpenCart, Prestashop, and WooCommerce templates.
Actually, there are a few reasons that should assure you of launching your online-store. To start with, it makes it possible to broaden your brand. You can offer your products 24/7 without a break. Furthermore, your online-shop will turn out to be your main marketing tool in fighting competitors and getting more clients. As a result, your business will only grow and expand.
Enough words. It is better to look through the best eCommerce templates and make your business widely-recognized all over the world…
Monora – Jewelry OpenCart Theme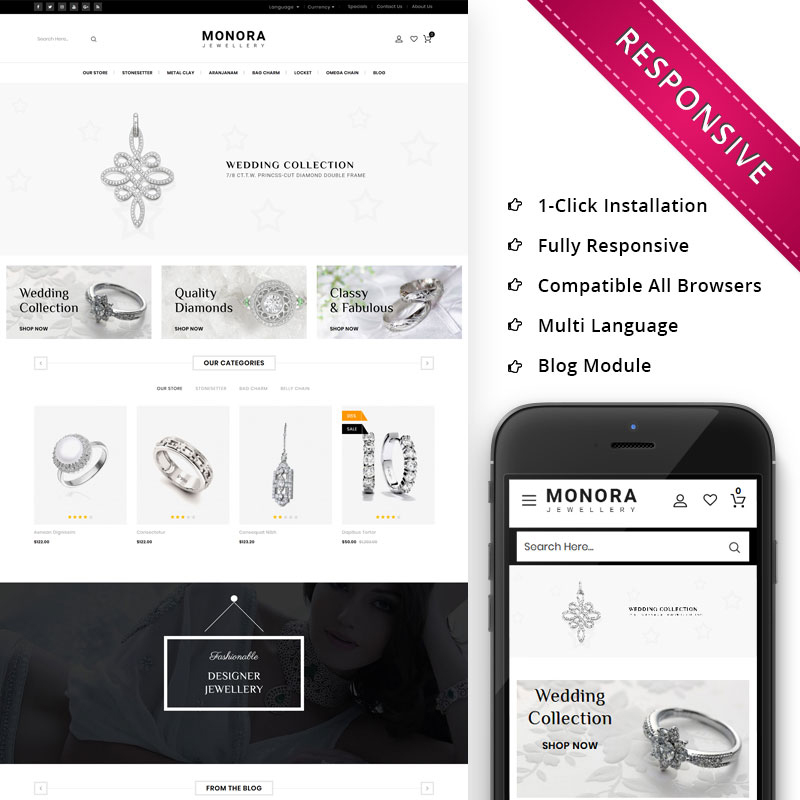 Details
|
Demo
One of the most sophisticated and advanced templates that allows creating jewelry online-shops of all sizes and shapes. It will quickly adapt to your business and allow altering its appearance (to the very last detail) to your brand. Its design will be compatible with all popular browsers no matter how many customization steps you are going to make. In addition to this, your online-shop will support multiple languages and currencies. Do not also forget to add an eye-catching cloud zoom integration to the product detail pages.
BuyShop – Multipurpose PrestaShop Theme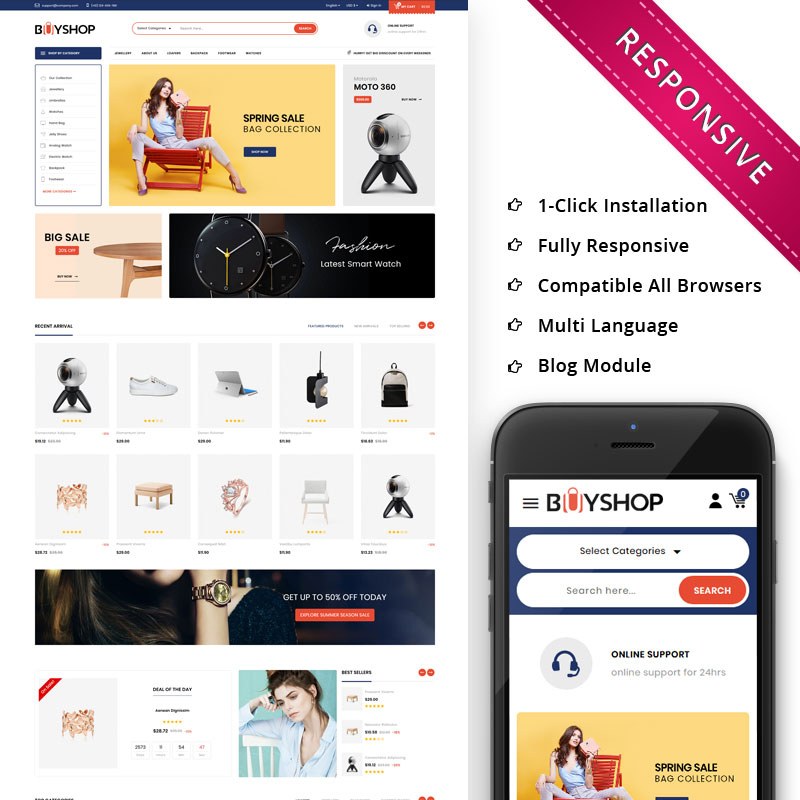 Details
|
Demo
A fully-customizable and extensible theme that includes a broad assortment of options to meet all your needs. It is installed in one single click and can be customized in a jiffy. Furthermore, you will have multiple useful modules at your disposal like a product comment, wishlist, blog, and many others. You can always add various banners to your homepage, promote the newest products, and present the hottest deals.
Gifty – Gifts OpenCart Theme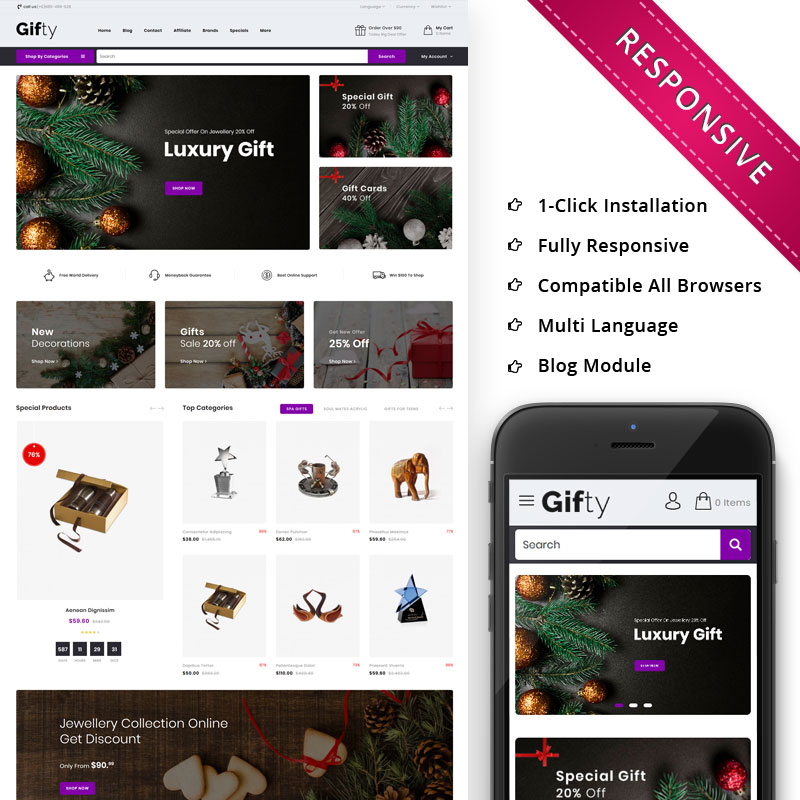 Details
|
Demo
If you need one single digital item to answer all your design and eCommerce questions in terms of the gifts online-shop, this wonderful variant surely is the one. It has fast and user-friendly options that allow customizing and styling your theme colors, fonts, backgrounds, and other components. There are multiple elements that you can add to your product details pages. Among them, you can find a related product slider, shopping cart dropdown, and many others.
Vitra – Multipurpose WooCommerce Theme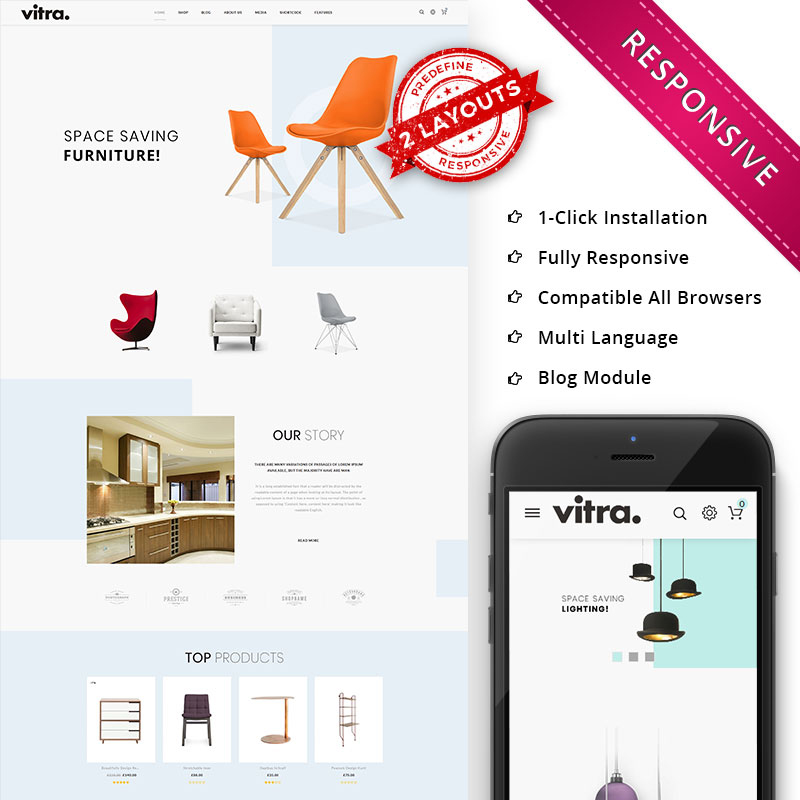 Details
|
Demo
Vitra is a super-modern and expressive template that instantly captures the attention of multiple users. Both individuals and established businesses can take advantage of this amazing ready-made solution to promote their assortment. You can easily include different modules in your online-shop. As an example, a top-selling products module, special products module, latest products module, and many others. Do not forget that your website will adapt to all types of devices and their screen resolutions.
Wingstore – Multipurpose OpenCart Template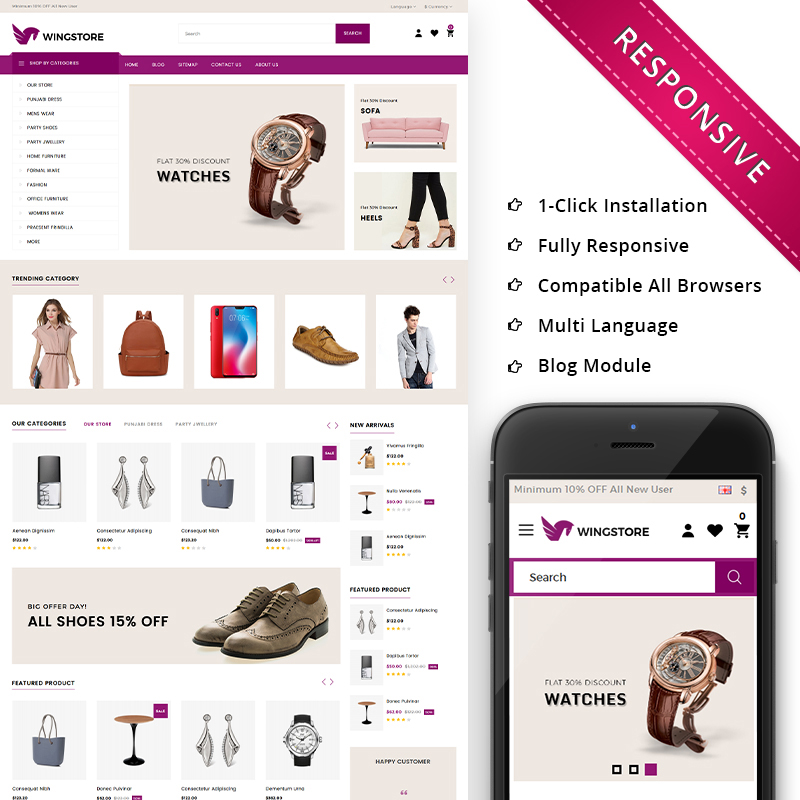 Details
|
Demo
One more multipurpose template that can be used to present different kinds of e-businesses in the best possible light. It has all the necessary values and capabilities to make your dreams about a marvelous online-shop come true. Without a doubt, it possesses a wide range of eCommerce options, including a product comment module, product image rollover effect, shopping cart dropdown at the header, and so on and so forth. Moreover, you will get excellent blog functionality that makes it absolutely possible to share some additional details about your services and products.
Giftive – Gifts PrestaShop Theme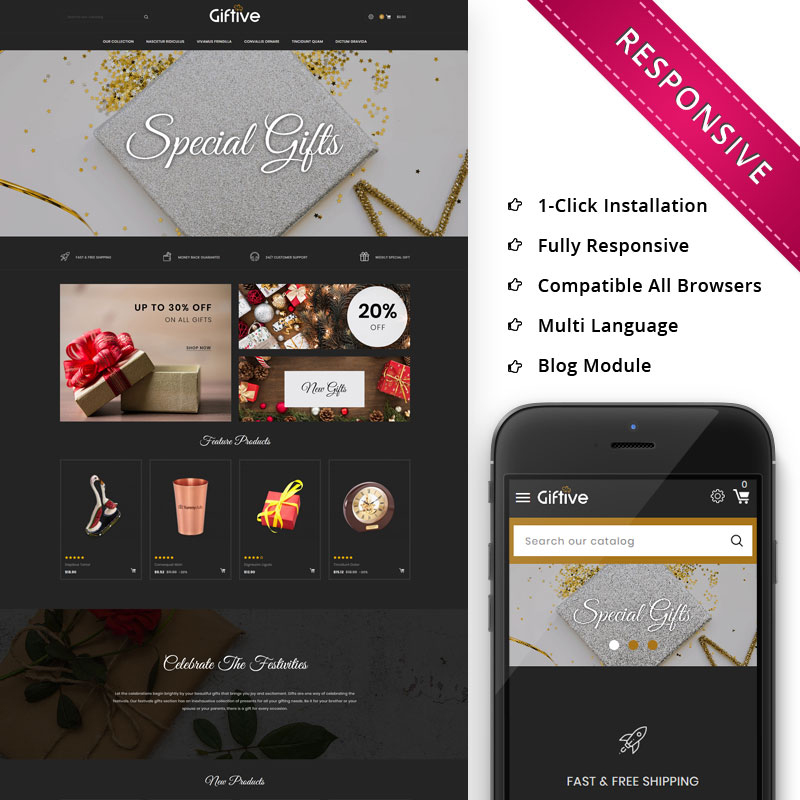 Details
|
Demo
If you want to take a look at one more template that allows building a gifts online-shop, you better check this exciting variant. It will unquestionably give you a chance to impress your potential visitors. The installation process is extremely simple and takes only one single click. In addition to this, your website will support multiple languages and currencies. In such a way, your online-project will be opened for an international audience.
Claire's – Fashion WooCommerce Theme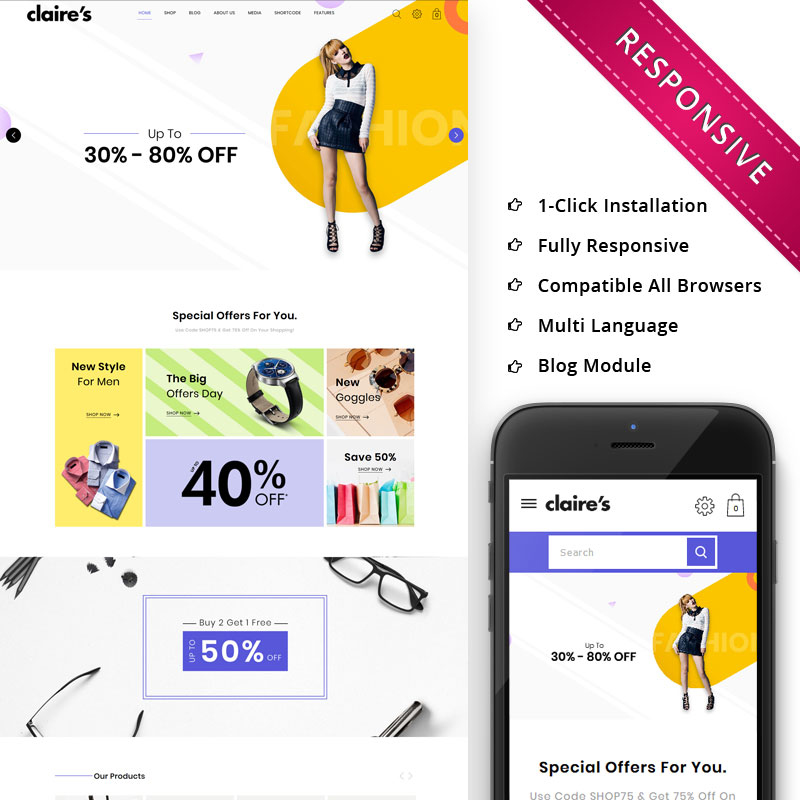 Details
|
Demo
Are you searching for a fashionable template that will put a focus on your clothes? In this case, you certainly need to choose this stylish variant for your next online-shop. It has a sleek design and a rich list of features that can easily make your products go viral. A blog functionality allows publishing your best news and shopping tips. Furthermore, you will be provided with access to a large number of components like a product wishlist module, secondary product image on hover, cloud zoom integration, and so on and so forth.
Pizzap – Pizza OpenCart Theme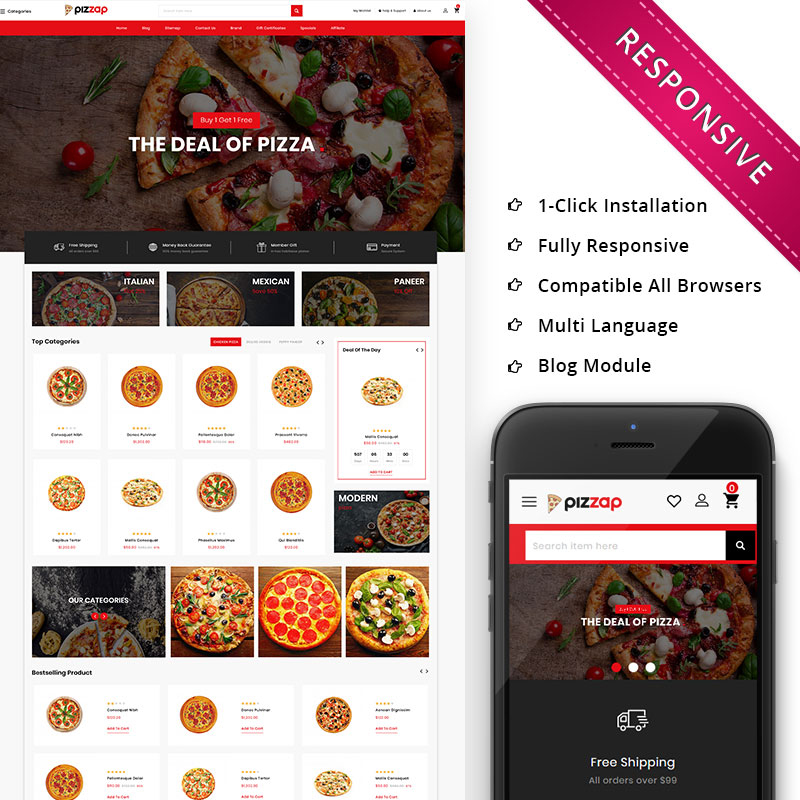 Details
|
Demo
It is completely possible to present your pizza, cakes, bakery, drink, and other food-related businesses by means of this stunning template. In the package, you will discover lots of exclusive features that everyone will be happy to get. As an example, you are free to make use of such modules as a product comment, wishlist, and blog. There are also different components that you can add to product pages like a related product slider or cloud zoom integration.
Furni – Furniture OpenCart Theme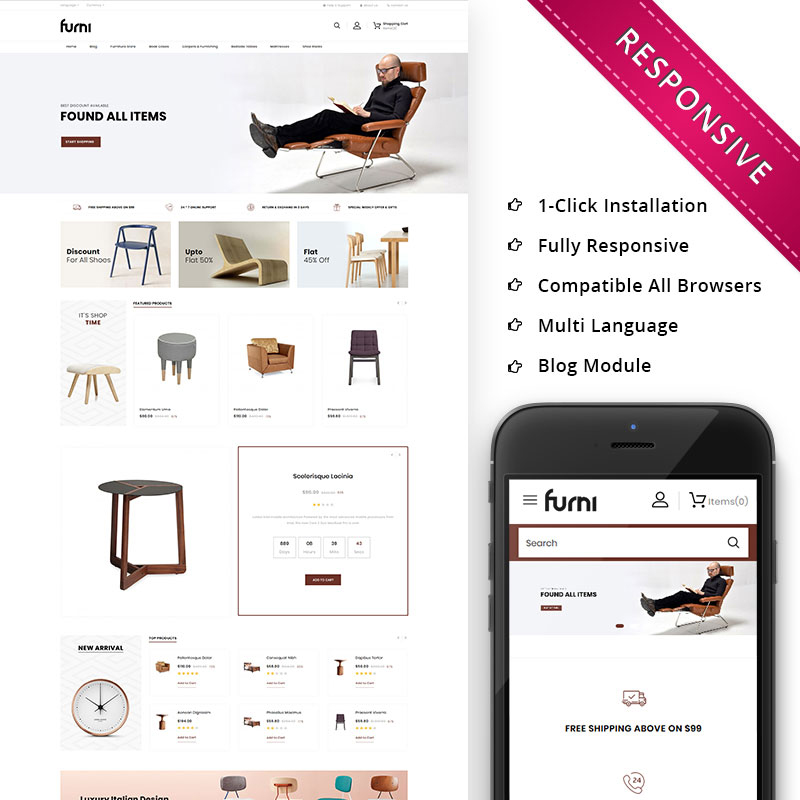 Details
|
Demo
Furni is an excellent template in terms of promoting your furniture shop on the Internet. It has a fully-responsive design that will mesmerize customers both on desktop and mobile devices. It will take you only one single click to install this very template and start playing around with its design, including fonts, colors, backgrounds, and so on and so forth. Moreover, there are various modules that will assist you in presenting your assortment. Among them, you can find featured products, latest products, top-selling products, and special products modules.
Emart – Multipurpose OpenCart Theme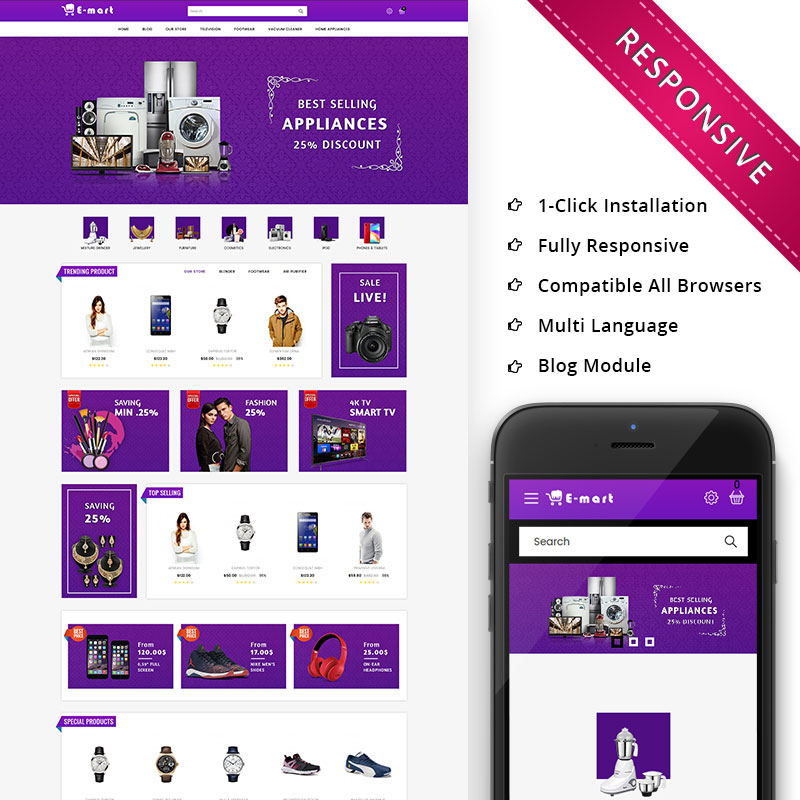 Details
|
Demo
In order to enrich your digital business and start attracting new customers like never before, you need something like this superb theme. It is designed to meet all your requirements. First of all, its design will be rendered perfectly on all possible devices no matter what screen resolution they have. In addition to this, you can translate your website into multiple languages and start selling your items all over the world. Such components as a product wishlist or unlimited banners will play a huge role in getting more clients.
As you can understand, eCommerce offers a great number of opportunities. Your online-shop will be capable of generating more sales. Yet, you should always remember that only a professionally-looking and fully-functional online-store can provide you with some impressive results. For this reason, it is crucial to choose a first-class ready-made solution that allows achieving all the necessary goals. Each of these eye-catching eCommerce templates presented on the top can boost your business. Just focus on the topic you want to sell and everything will become clear. You will instantly find the most appropriate variant that will meet both yours and your customers' expectations. Do not be afraid to become a part of the eCommerce world and thanks for reading!